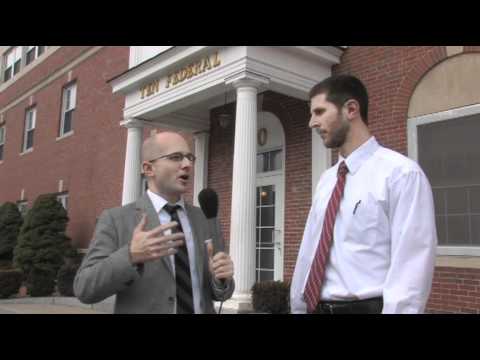 Nearly a year to the day since Kenneth Howe died in police custody following a struggle on the lawn of The Eagle-Tribune, Essex County District Attorney Jonathan Blodgett has determined that police did nothing wrong. The decision today means no officers will be prosecuted or disciplined as a result of Howe's death, although a civil suit by the family against the police and the district attorney is still continuing.
What's probably most notable about today's decision is the acknowledgement that Howe did appear to die as a result of the struggle with police, but that in the DA's opinion the fault seems to lie with Howe himself. Clearly this isn't a Rodney King case where police were seen beating a suspect. Blodgett reiterated several times that there was no evidence that Howe was beaten, kicked or punched. In fact, our own Eagle-Tribune photographer Carl Russo who witnessed the apprehension told the D.A. that he saw no evidence of that either. But what Blodgett does emphasize is that right from the get-go — which occurred as police were conducting a routine sobriety check point in front of our office here in North Andover — Howe appeared to fight police at every turn and resist any attempts to subdue him.
What the civil suit will likely concentrate on, however, is whether simply apprehending Howe and holding him on the ground while he struggled caused his death and left police responsible. Clearly the family feels so. What do you think?